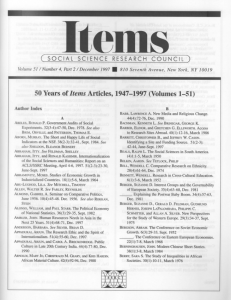 From 1947 to 2008, Items (later called Items & Issues) served as the newsletter of the SSRC, published several times annually. For the first time, the Council is making the entire corpus of Items available online. You are welcome to explore the catalog of Items, which contains a wide range of articles on SSRC programs, key issues for the social sciences at particular historical moments, lists of Council fellows, and more. Two Items issues include indexes of articles listed by author and title, and are useful tools for locating essays on particular topics or programs.
View the index that spans the first 50 years of Items, 1947 to 1997.
View the Items & Issues index that spans from 2000 to 2008.