Did masks prevent the spread of influenza during the 1918 epidemic? One physician in Muncie, Indiana, declared emphatically: "Masks are useless," because "influenza germs can penetrate any cloth masks without trouble." Another physician quoted in the same newspaper reached the opposite conclusion: "Masks should be worn when about those afflicted with it. I believe them to be the best preventive." A third physician echoed this advice about public behavior: "By all means wear masks where there is suspected contagion."1Muncie Evening Press, December 11, 1918, 4. https://www.newspapers.com/image/254260552/.
These contrasting opinions led the local newspaper to offer this concession: "One of the impressive things about the Spanish influenza is that nobody knows anything about it and that those who profess to have some knowledge disagree on the most vital points concerning it." "The Mystery of Influenza," as the editorial was titled, was a revealing admission of how little was known about an epidemic that the physicians and people of Muncie, along with the entire United States, had been dealing with for more than two months.
These conflicting opinions about masks during an epidemic seem very similar to the question asked repeatedly in 2020: Do masks work? Answers to this question in 2020 have challenged public health officials, transformed daily practices, compounded political differences, and generated considerable anxiety. In the era before commercial radio, newspapers were the primary form for information dissemination, which means that reading newspapers now is the closest possible approximation to understanding the information available to the public in 1918. This essay uses a combination of methods to examine the available sources and draws conclusions about the use of masks during the 1918 influenza epidemic. A case study approach to newspaper reporting in Indiana cities in the 1918 epidemic can thus inform understanding in 2020 of public policies and popular attitudes.2This case study approach is inspired by the account of mask ordinances in San Francisco in Alfred W. Crosby, America's Forgotten Pandemic: The Influenza of 1918 (Cambridge: Cambridge University Press, 1989), 91–120. For more about the methodology used in this article, see the appendix at the end of the piece.
Masks marked the intersection between public policy and personal actions. A photograph dated November 27, 1918, from Indianapolis shows a woman, carrying a small bag, standing on the street. (Figure 1) Her mask is covering her nose and mouth, so just her eyes are visible below her hat. Unlike many photographs staged to demonstrate proper mask techniques, this image seems more candid, as the woman looks away from the photographer. Why did this woman put on a mask? Did her mask prevent the spread of influenza? What did the mask mean to her and those she encountered?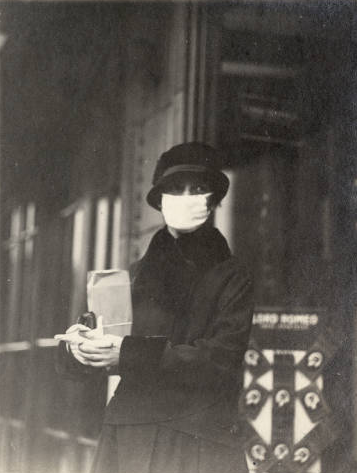 Masks in public spaces
The earliest and certainly most consistent policy was the recommendation that nurses, doctors, and anyone caring for influenza patients wear a mask.3Muncie Evening Press, October 6, 1918. https://www.newspapers.com/image/254254042/. This practice was confirmed by the caption on the photograph of a masked nurse in many Indiana newspapers: "'Flu' Mask Ready to Check Epidemic." (Figure 2) A photograph of an influenza ward confirms this use, as eight masked nurses stand by the beds of patients. (Figure 3) Medical use of masks persisted throughout the epidemic and seemed to generate little debate. By this time, researchers, physicians, and the public had mostly accepted that infectious diseases were transmitted from person to person, displacing previous beliefs about heredity or miasma as primary forms of transmission.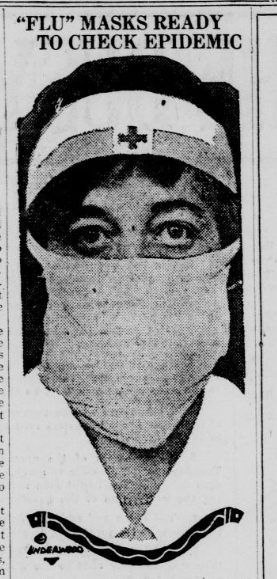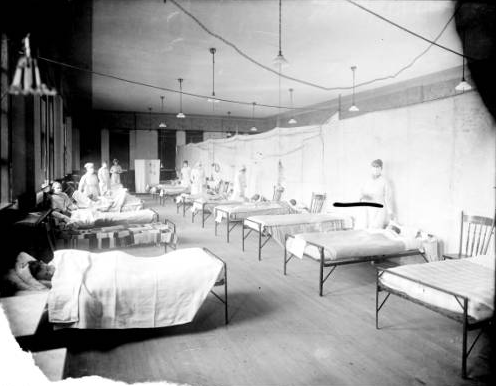 By contrast, recommendations and regulations for public masks were inconsistent, contested, and controversial. Indianapolis, the largest city and state capital, went furthest in mandating masks.4See the Indianapolis essay in the Influenza Encyclopedia. After an initial increase in cases in October was followed by a decrease and then a resurgence, the Board of Health announced on November 18, 1918, that masks were required in "business houses, factories, theaters and other places of public gathering."5Indianapolis Star, November 19, 1918, 1, 8. https://www.newspapers.com/image/7036781/. Board of Health Secretary Dr. Herman G. Morgan declared that mask requirements would "permit the business and social activities to continue with as little hindrance as possible."6Indianapolis Star, November 24, 1918, 1. https://www.newspapers.com/image/7040486/. As cases began to decrease, the mask order was rescinded after just one week, but the Board of Health recommended "that every care and precaution should be taken by individuals to protect their health, as the danger of infection is by no means passed."7Indianapolis Star, November 24, 1918, 1. https://www.newspapers.com/image/7040486/.
Other cities recommended masks but did not impose requirements. The Evansville Board of Health "advises everybody to avoid crowds and to wear masks," but no order was issued to require masks or prohibit public gatherings.8Evansville Press, November 22, 1918, 3. https://www.newspapers.com/image/141158302/. In Muncie, Health Commissioner Dr. N. D. Berry recommended that residents use paper masks, which were inexpensive and could be burned after use, rather than cloth masks "likely to collect germs, which may be transmitted to the wearer when the mask is reversed." According to Berry, a ban on public gatherings was better than a "city full of masked persons."9Muncie Evening Press, November 20, 1918, 1, 10. https://www.newspapers.com/image/254258604/. The Muncie Evening Press acknowledged that "nobody is certain that wearing a mask has anything to do with keeping away the deadly germ," yet endorsed this practice: "if wearing a mask upon the thoroughfares or in crowds makes the wearer happier, gives him a sense of security that he would not otherwise have, by all means wear the mask, but see to it that you have several as long wearing of one is bound to cause it to be insanitary."10Muncie Evening Press, November 22, 1918, 4. https://www.newspapers.com/image/254258750/.
On the other end of this spectrum, some city officials emphatically rejected masks. Dr. E. G. Freyermuth of the South Bend Board of Health claimed that masks were "injurious to the health of the wearer," as "whatever germs may be breathed out are taken right back," and he would "never order the wearing of these masks here, only when persons are with influenza patients."11South Bend Tribune, November 20, 1918, 1. https://www.newspapers.com/image/514606763/. Two weeks later, the newspaper observed "we have seen no faces in South Bend protected by 'flu' masks."12South Bend Tribune, December 6, 1918, 12. https://www.newspapers.com/image/514608380/.
A comparison of death rates per 100,000 population in Indiana cities illustrates the challenges of evaluating public health measures. (Figure 4) Monthly rates were always higher during the epidemic (solid lines) than the previous year (dotted lines). Indianapolis (masks required), Evansville (masks recommended), and South Bend (no masks) each recorded peak levels in October, and then declined steadily in the months that followed. In Muncie (masks recommended) death rates remained low through November, spiked in December, and rose again in March 1919. Fort Wayne (masks required) had a low rate in October, but rates rose to a higher plateau in November and December. Mask orders may not have affected death rates, but they did signal concern about increasing cases and deaths.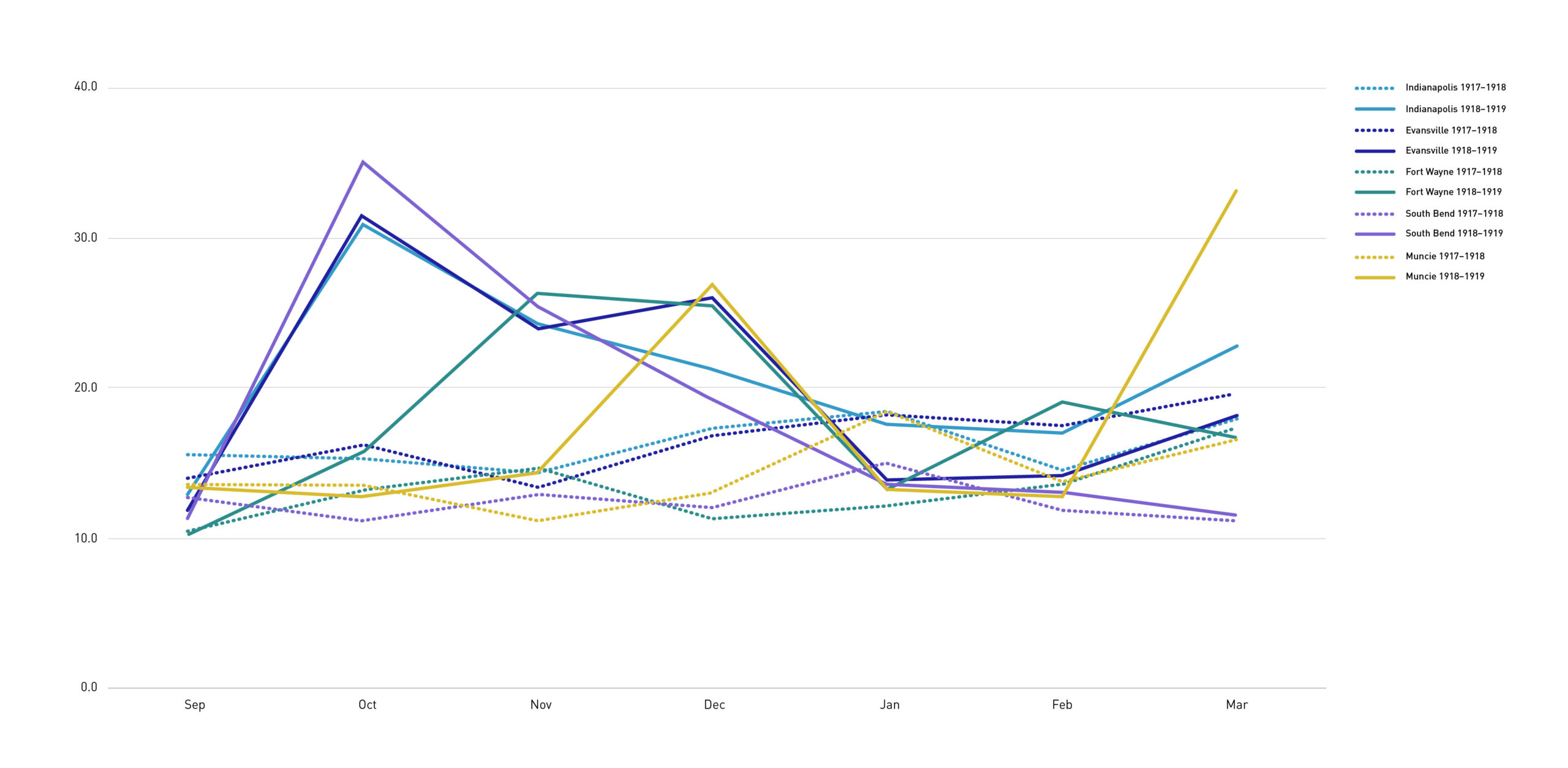 Masks in Fort Wayne
Even though Fort Wayne recorded relatively few deaths in October 1918, health authorities prohibited public meetings "not because there is an epidemic here," but because "they are doing their best to prevent one."13Fort Wayne Sentinel, October 14, 1918, 1. https://www.newspapers.com/image/34055469/. Ten days later, the Board of Health recommended people wear gauze masks to "prevent an epidemic" and save hundreds of lives: "This may appear ridiculous, but it is the only way to prevent the spread of influenza."14Fort Wayne Sentinel, October 24, 1918, 1. https://www.newspapers.com/image/34056274/. In the middle of November, as cases and deaths remained low, the public meetings ban was lifted and masks were no longer recommended. On December 3, however, as the number of cases spiked, the Board of Health implemented an urgent measure: "The mask must be worn in all public places, namely in street cars, stores, schools, theaters, churches, public elevators, all meetings, and in all offices where three or more persons are employed." Dr. Maurice Lohman, city health commissioner, declared "It is the duty of every individual to observe every precaution."15Fort Wayne Journal-Gazette, December 4, 1918, 1. https://www.newspapers.com/image/29128448/.
The Fort Wayne Journal-Gazette questioned why anyone would "manifest an incredulous disposition regarding the danger," given that more lives had been lost to the epidemic than were taken by the war: "The play to compel all people of Fort Wayne to wear gauze masks is not unreasonable…It certainly will work a hardship on no one to wear these gauze masks and if everyone wears them in the public places designated the only conspicuous person will be the man or woman without one, and if the order amounts to anything it will provide for an arrest and fine for any one failing to observe it."16Fort Wayne Journal-Gazette, https://www.newspapers.com/image/29128526/.
On December 5, the newspaper reported that "the majority of persons yesterday complied with the health board's ruling, and few went without masks."17Fort Wayne Journal-Gazette, December 5, 1918, 11. https://www.newspapers.com/image/29129213/. Fifty special police were given 'the power to make arrests when necessary to enforce their orders." C. F. McKown was "the first to feel the weight of the law," when he was arrested for riding a streetcar without a mask.18Fort Wayne Sentinel, December 5, 1918, 1. https://www.newspapers.com/image/38600612/. On December 7, the Fort Wayne Sentinel published a cartoon making fun of a husband who refused "to wear a mask like the rest of the people." (Figure 5) This cartoon mirrors the gendered assumptions of the time that a wife would be responsible for both the public appearance and the sanitary practies of the home, including the husband (as symbolized by the kitchen appliances used as a weapon). In photographs taken on a busy shopping Saturday, at least nine of 18 individuals whose faces could be identified were wearing masks (with approximately the same share of women and men with faces covered). (Figure 6)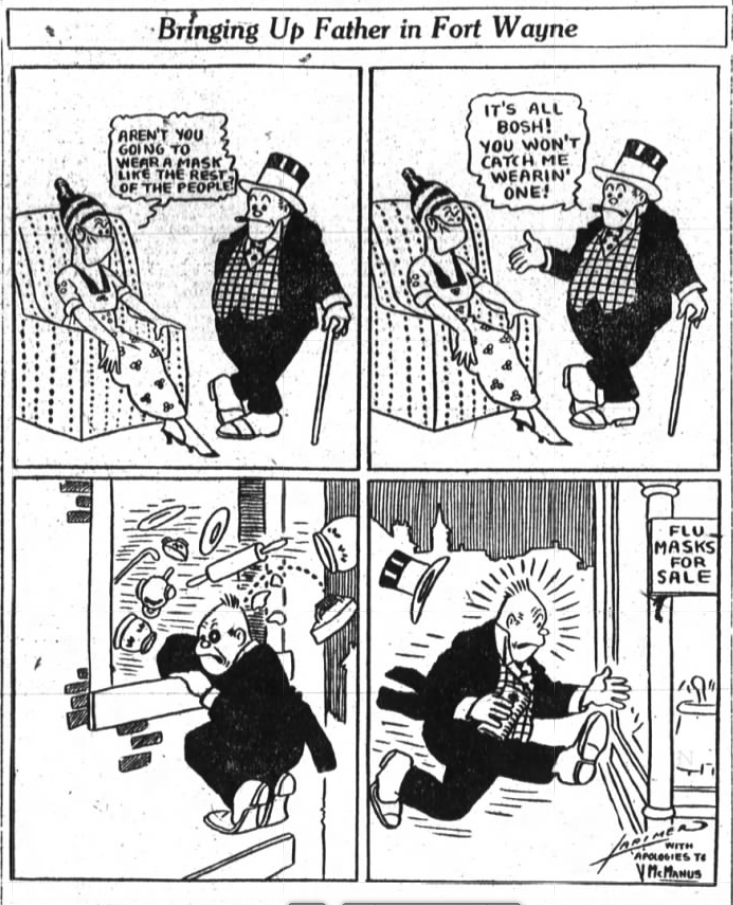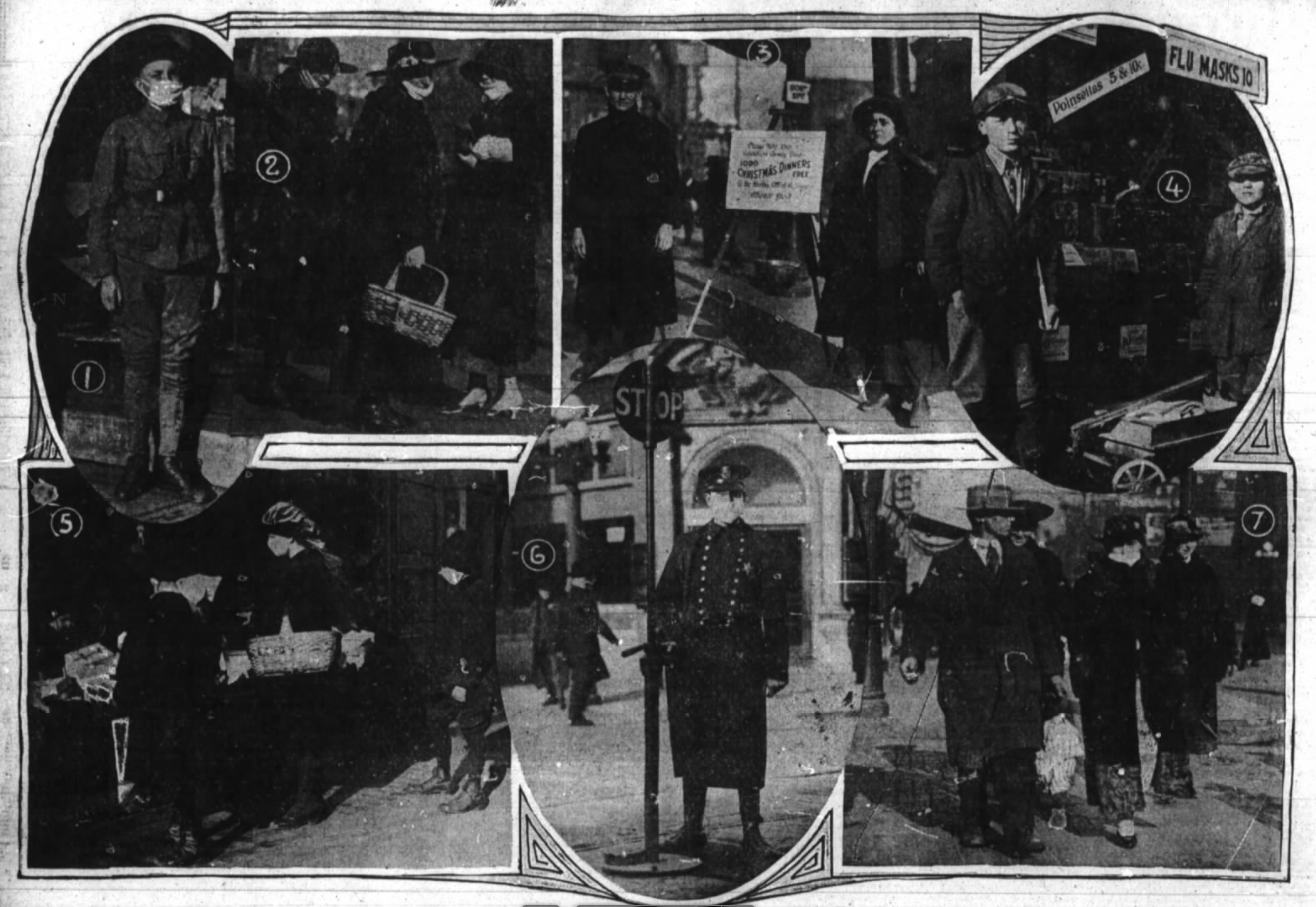 Later on Saturday evening, however, the Board of Health abruptly reversed its policy, declaring "wearing of masks as a preventive measure against influenza will not be compulsory."19Fort Wayne Journal-Gazette, December 8, 1918, 1. https://www.newspapers.com/image/29130258/. The Board justified the original order but also its revocation: "The best medical minds in the country believe that the wearing of a mask is very efficacious for the prevention of disease; but that headaches and other inconveniences develop….after a few days people become weary of wearing their masks and consequently grow lax and careless, and finally discard them altogether."20Fort Wayne Journal-Gazette, December 8, 1918, 8. https://www.newspapers.com/image/29130417/. During the ten days that followed, the number of cases decreased, leading to gradual relaxation of public health measures.21Fort Wayne Journal-Gazette, December 19, 1918, 10. https://www.newspapers.com/image/29136250/. Yet a comparison of influenza deaths in Fort Wayne, the average for 15 other cities, and entire state suggests the Board of Health acted too quickly to rescind the order. (Figure 7)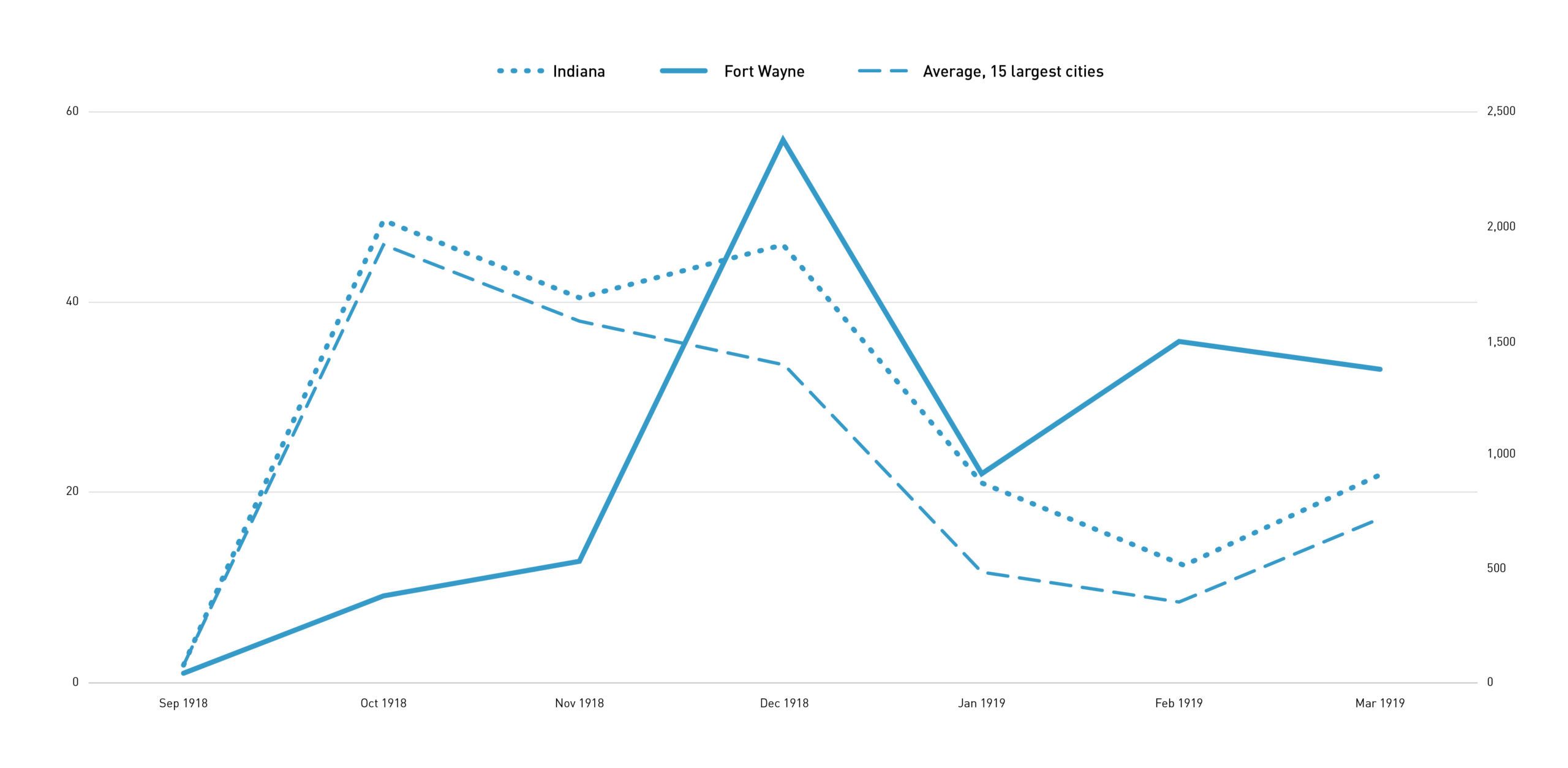 Fort Wayne's deaths from influenza rose only gradually in October and even November, but December's toll was much higher than the numbers elsewhere. Fort Wayne's total of 157 influenza deaths during the epidemic produced a rate of 214 per 100,000, lower than other large cities (339 in Terre Haute, 296 in South Bend, 270 in Evansville, and 223 in Indianapolis). Whereas other cities recorded one-half or more of total deaths in the first months of the epidemic, Fort Wayne recorded nearly one-third of deaths in the month of December 1918 alone, during and after the brief experiment with a mask mandate. These numbers indicate that the required period of mask wearing was probably too short to effect the number of deaths from this disease, but they also suggest that the mask ordinance came too late in the epidemic to make a significant difference in fatality rates. During the influenza epidemic of 1918, in contrast to the US experience with Covid-19 in 2020, the peak in case numbers rose and then fell so quickly that mask ordinances, especially those lasting just a week, were more significant as a signal that authorities perceived the need to act than as a meaningful public health intervention.
Masks during epidemics
The historical example of flu masks in Indiana remains relevant in summer 2020 as Americans confront the continued threat of Covid-19. Decisions to close schools, churches, theaters, or businesses, and prohibitions against public meetings, work on a collective level, as they affect how people interact, the conduct of business, or movement through a community. In each of these situations, a policy decision justified as improving community health has implications for individual behaviors. In the case of masks, however, the balance between public conduct and personal choice is even more complicated. In Indiana in 1918, the use of masks in public revealed a spectrum, from mandatory to recommended to nonexistent. Fort Wayne offers a particularly interesting example of how a mandate on public masking was implemented and enforced—and then suddenly discarded, despite the recommendations of health officers and physicians, at a time when case and death numbers were actually rising. In the cities where masks were required, the fact that the ordinances lasted just days proves the difficulty of regulating this particular form of personal behavior, even when confronted with the serious threat of epidemic disease. Although resistance to masks in Fort Wayne did not energize to the levels seen elsewhere in the United States in 1918–1919, the willingness of city officials to abandon the mask ordinance so quickly certainly anticipates the present-day crisis as federal, state, and local authorities struggle to determine the proper approach to encourage, mandate, and compel the public to wear masks.
Yet the Indiana case studies illustrate how masks must be part of a combination of strategies to contain the spread of disease. In the United States in 2020, even with delays and inconsistency across regions, a set of consensus recommendations have emerged: emphasizing personal hygiene; closing or restricting business, entertainment, and recreation spaces; working remotely to keep people isolated; seeking medical treatment as early as possible; and wearing masks in public spaces. In 1918, each of these measures were recommended or required, but they were implemented inconsistently and unevenly. More importantly, these measures were sometimes seen as alternatives to one another, rather than complementary.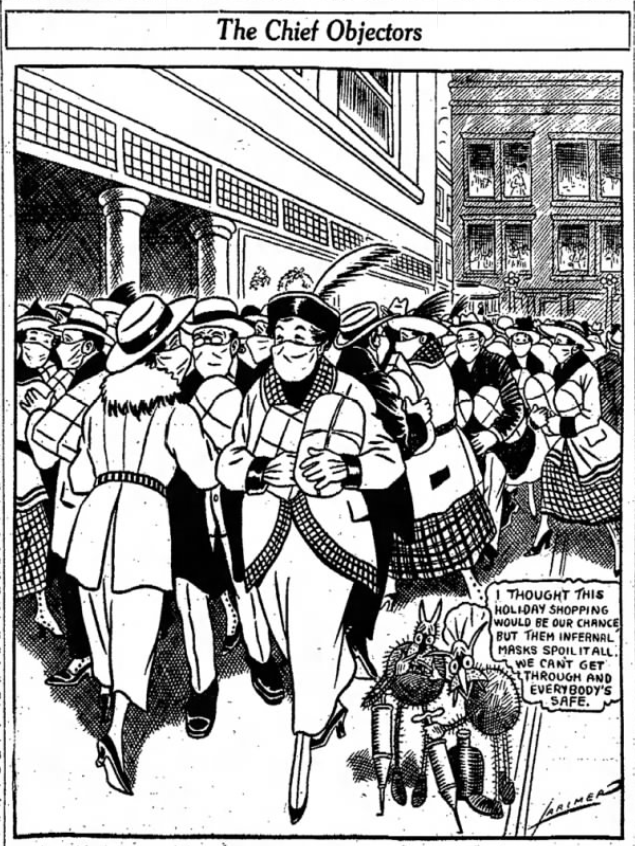 A cartoon published in early December in Fort Wayne showing holiday shoppers wearing masks but crowded tightly together illustrates this inconsistency. (Figure 8) Wearing masks in this situation might help prevent the spread of contagion, but walking so close together would likely increase the possibilities of spreading disease, even if masks were worn correctly and consistently. As we reflect on our experiences with Covid-19 and look back to 1918 for historical analogies, we can be impressed by the seeming ubiquity of masks in this cartoon while also acknowledging that containing an epidemic requires comprehensive, committed, and consistent changes in public and personal behavior.
Appendix: Discussion of Sources and Methods
The availability of sources shapes the methods used to analyze the use of face masks in Indiana during the 1918 influenza epidemic. Newspapers provide a daily narrative of how local communities, including health officers, physicians, business owners, and the general public, understood the impact of the disease and the implementation of public health measures. Newspaper articles with statements from local people, descriptions of activities, and reports from meetings are especially valuable. In addition, the editorial commentary in newspapers provides some sense of how the community responded to this unprecedented situation and recommended public health measures. Yet, newspapers also have limitations as sources for historical analysis. Not all newspapers have been digitized, which means that accessing the news from digital platforms is not consistent or comprehensive. In addition, newspapers reflected particular editorial biases, primarily represented the leaders in communities, and reported only partially on the experiences of the whole population.
The Library of Congress's Chronicling America portal provides extensive evidence of how flu masks appeared in news reporting during the epidemic. Searching newspapers from September 1, 1918, to March 31, 1919, produces 403 page results for the entire collection. A broader proximity search "influenza" and "mask" within 50 words produces 1,599 page results for the entire collection. The three Indiana newspapers available from Chronicling America produced 48 results for the proximity search "influenza" and "mask": Richmond Palladium and Sun-Telegram, South Bend News Times, and Lake County Times. The publicly available collection of newspapers, Hoosier State Chronicles, produces approximately 300 results for search terms, "influenza," "flu," and "mask" in the years 1918–1919; this collection includes many newspapers from smaller towns across Indiana. Subscription newspaper collections, some available through public libraries, historical societies, or genealogical associations, provide access to more local newspapers in 1918, including many of the Indiana newspapers used in writing this essay.
Research on the 1918 epidemic at the regional or local level benefits from the availability of state medical journals and health department reports, which provided extensive information about other dimensions of the epidemic, including diagnosis of symptoms, treatment recommendations, evaluation of public health measures, and statistics on cases and deaths. Medical journals published reports on influenza as soon as the epidemic began, and with increasing frequency as the disease spread, the number of cases increased, and the fatality rate rose correspondingly. For studying the influenza at the regional and local level, state medical journals available from Medical Heritage Library are especially valuable. The Journal of the Indiana State Medical Association for 1918 and 1919 reprinted articles from national medical journals as well as commentary from Indiana physicians dealing with this remarkable epidemic.
State health departments provide valuable evidence of the public health response to the epidemic along with detailed statistics about deaths from causes, by categories, and, in some cases, by county or city. The Yearbook of the State of Indiana of 1919 includes vital statistics for the calendar year 1918, with Table No. 2 listing deaths by counties for the year 1918 and Table 20 listing deaths from influenza by month and age category. In the Monthly Bulletin of the Indiana State Board of Health, Table 2 lists deaths for each city with a population over 5,000 by cause of death (including influenza) and age category. The Vital Statistics from the United States Census provide annual reports on deaths by location and cause, which is especially useful for comparing epidemics with "normal" rates of death from diseases such as influenza and pneumonia. These statistical collections provide essential materials for measuring the impact of this disease at the local, state, and national level.
This case study of masking in Fort Wayne makes use of two newspapers, the Fort Wayne Journal-Gazette, a morning paper published seven days a week, and the Fort Wayne Sentinel, an evening paper published every day except Sunday. The newspapers represented opposite sides of the political spectrum of US politics. During the 1918 Congressional elections, for example, the Fort Wayne Journal-Gazette endorsed the Democratic candidates pledged to support President Wilson in his leadership of the war effort while the Fort Wayne Sentinel endorsed Republican candidates to ensure that Congress placed limits on the President's power. On matters related to the influenza, however, the two newspapers seemed in close agreement. As the debate on ending the mask ban intensified, the Fort Wayne Journal-Gazette published an editorial on December 7 congratulating the people of Fort Wayne for "the spirit in which they have responded to the preventative measures adopted by the board of health in its effort to spare the community the experience of other cities with the influenza," as people have come to understand "that it is no longer popular to complain that unnecessary steps are being taken against a nonexistent danger. The lives of men come first." Two days later, after the ban was lifted, an editorial in the Fort Wayne Sentinel also defended unpopular decisions made by the board of health: "It has been charged that the health officials of Fort Wayne have been overcautious and that many cases have been reported as influenza which really are nothing except bad colds. Possibly this is true, but no one with good sense will contend that it is not wiser to err on the side of caution than that of carelessness."
This article uses a combination of methods to examine the available sources and draw conclusions about the use of masks during the 1918 influenza epidemic. Selecting cities from Indiana follows social science standards by identifying a representative sample yet also examining differences in ways that can identify possible causal relationships. From the humanities, this case study interprets the language used by health officials and newspaper editorial to justify mask regulations, and requirements as well examining evidence illustrating the range of behaviors, attitudes, and experiences that shaped the meaning of masking during an epidemic. Finally, the use of statistical evidence of cases and deaths by location and cause over a period of time allows for quantitative analysis of the impact of this specific policy intervention. Applying an integrated approach thus provides the most insights into how human experience with masks was shaped by epidemic disease, health policies, and community practices.
E. Thomas Ewing, Ariel Ludwig, and Jessica Brabble are researching and writing Flu Mask, a history masks during the 1918–1919 influenza epidemic in the United States, based on source materials including newspapers, medical journals, scientific studies, and statistical data. Benjamin Olex also contributed to the research for this project. The project has been funded by the Department of History and the Center for Humanities in the College of Liberal Arts and Human Sciences at Virginia Tech. More information about the project is available from the project website: https://sites.google.com/vt.edu/flumasks/home.