The rainy season in the Peruvian Andes lasts from December to March, bringing precipitation to the highlands and the chaupiyunga (the western foothills). This rain drains down the western slopes and into the Pacific in a series of east-west flowing rivers, bringing water to the desert coast. This year, the last two months of an otherwise unremarkable rainy season brought tragedy. El Niño storms pounded the chaupiyunga, sending torrents of water and debris into towns large and small up and down the coast, killing more than 80 people and displacing an estimated 110,000. Although there was international coverage of some of the most dramatic flooding, the impact of these events on small, rural communities has not been documented.
"It is clear that building community resilience will become ever more essential in the coming decades as the effects of climate change begin to unfold."
As researchers and community organizers who have been collaborating with rural communities for 20 years on cultural heritage preservation as well as social and infrastructure projects in underserved communities of the Peruvian chaupiyunga and coast, we examine the devastating events of February and March.1The authors of this essay collaborate and work with MOCHE Inc. in the rural Moche Valley of northern Peru. MOCHE Inc. (Mobilizing Opportunity through Community Heritage Empowerment) is an organization with the aim to improve the standard of living in impoverished communities, preserve archeological sites, and promote research and education. Focusing on one of our partner communities in the Moche Valley, we discuss the effects of the 2017 rains, and the structures of resilience (or lack thereof) that shaped the community's responses. Since sea temperature affects El Niño and El Niño–like events, it is clear that building community resilience will become ever more essential in the coming decades as the effects of climate change begin to unfold.
Communities of the Peruvian chaupiyunga and coast
The Moche Valley, located in the Department of La Libertad, provides an example of rural life throughout the Peruvian north coast. The valley is divided into three sections: the upper valley, where the Moche, Cuesta, and Sinsicap Rivers drain the highlands into the deeply incised dry washes of the chaupiyunga; the middle valley, at the rivers' confluence where the landscape opens, creating fields irrigated by canals; and the lower valley, with its vast flood plain and areas of urban development. Trujillo, Peru's largest northern city and the capital of La Libertad, is located in the lower valley, and its modern urban sprawl extends to the Pacific. East of Trujillo, the rural lower and middle valley is made up of rich, agricultural fields primarily dedicated to export agriculture, particularly sugarcane.2Much of the arable land in this region is owned by a multinational agricultural company, Sol de Laredo, which produces sugarcane year round. Above the cane fields, small communities are located on valley slopes or along Highway 10A, the main thoroughfare, which runs due east connecting Trujillo to the highland city of Huamachuco.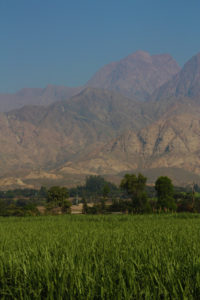 Although each of these small communities is unique, characterized by its own advantages and challenges, the first community with which MOCHE Inc. built a relationship, Ciudad de Dios, is representative in many ways of rural residents of the chaupiyunga and coast. Following the devastating 1997–98 extreme El Niño, a number of displaced families who had lost everything relocated to the tiny community of Ciudad de Dios. This community was not yet formally recognized by the Municipalidad de Laredo (the local, county-level government) and had no road connecting them to the highway or running water. Building on our agreement with the residents of Ciudad de Dios, created during the 1998 excavations of an archaeological site located above the community, we helped them with infrastructure projects. These included the construction of a road linking them to the highway and Trujillo, a school, and a potable water system. We also helped them gain recognition from the Municipalidad de Laredo and develop a Women's Co-op, the members of which work together to embroider goods for sale and grow their savings. The rains of 2017, however, would challenge Ciudad de Dios and many other communities in the chaupiyunga as the 1997–98 extreme El Niño had.
What is El Niño?
In recent decades, the El Niño/La Niña Southern Oscillation (ENSO) phenomena has become a part of American public discourse. This shift is likely fueled both by a significant increase in media reporting of ENSO and its related weather events and the public debate surrounding climate change. ENSO results from sea surface temperature (SST) variability in the central and eastern equatorial Pacific. Although temperatures can fluctuate from average to above or below average, non-neutral conditions are created only when SST deviations are significant enough to affect the air circulation above the ocean surface. La Niña occurs when below average water temperatures strengthen the prevailing east-to-west winds that characterize the equatorial Pacific. During the El Niño phase, above-average SST decreases or reverses the easterly winds, bringing increased rain to the South American coast.
The above average SST and associated wind and rainfall patterns of the El Niño phase can result in significant negative impacts, particularly for the people of coastal Peru. During El Niño, chaupiyunga precipitation dramatically increases.3Jörg Bendix, "Precipitation Dynamics in Ecuador and Northern Peru during the 1991/92 El Nino: A Remote Sensing Perspective," International Journal of Remote Sensing 21, no. 3 (2000): 533–548. Localized, intense convection storms create excessive rainfall, which drains down otherwise dry mountainside channels. With little vegetation to hold soil and rocks in place, storm events scour deeply incised, mid-elevation slopes, filling dry washes and bringing huaicos down into valleys and the coast.4Rebecca B. Manners, Francis J. Magilligan, and Paul S. Goldstein, "Floodplain Development, El Niño, and Cultural Consequences in a Hyperarid Andean Environment," Annals of the Association of American Geographers 97, no. 2 (2007): 229–249. Huaicos—landslides of storm water runoff, silt, sand, rock, building materials, and trash—are not only destructive on their way down, but they leave behind a thick deposit of debris.
"The location and strength of particular convection storms and the

huaicos

they unleash cannot be predicted, leaving people vulnerable."
Although the El Niño pattern develops over the course of several months and so is somewhat predictable, each event is unique. The location and strength of particular convection storms and the huaicos they unleash cannot be predicted, leaving people vulnerable. Generally, the closer to the coast that the highest SST is found the greater the rainfall in the chaupiyunga. Due to this variability, some El Niño events produce mild increases in rainfall, while others are extreme. Two recent, well-studied extreme events occurred in 1982–83 and 1997–98. It is estimated these El Niños resulted in economic losses of 7 and 4.5 percent of Peruvian GDP, respectively. Unfortunately, current climatological models poorly predict eastern Pacific SST, making it difficult to forecast which El Niños are likely to become extreme.
The rains of 2017
An extreme central Pacific El Niño developed late in 2015 and in response the Peruvian government began preparations. Some local governments responded as well, with the Municipalidad de Laredo initiating a Civil Defense Brigade, creating both a chain of command and identifying people who could quickly respond. Fortunately, the rains never came, and by February 2017 NOAA identified a neutral ENSO status. However, in March the coast was hit by storms that produced ten times the amount of precipitation in the highlands and chaupiyunga as normally occurs from December through March (the rainy season). The huaicos and the devastation the storms caused were on the scale of the 1982–83 and 1997–98 extreme El Niños. Technically, the events of March were not El Niño because there was no warming of the central Pacific. The area of higher SST was limited to the coast, with temperatures building in January so that by February some areas were as much as 9°F higher than normal. Peruvians referred to the anomaly as a "coastal El Niño."
Coastal El Niño in the chaupiyunga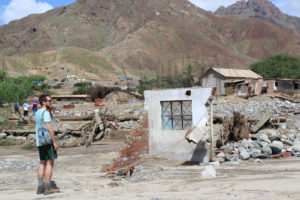 One of the most visible results of the "coastal El Niño" is the destruction of bridges that cut valley residents off from their most essential economic resource, Trujillo. Fields and potable water systems located on the valley floodplain and lining otherwise dry washes were destroyed, resulting in additional economic loss and a lack of access to safe water for many weeks.
Intermittently during the three-week period of flooding events, MOCHE Inc. volunteers worked with Laredo's recently created but previously unactivated Civil Defense Brigade to provide emergency water and foodstuffs to the valley residents who could be reached. Relief efforts would begin in the morning while residents attempted to estimate damage and clean debris from the previous night's flood and prepare for the potential flooding event of the day. Governmental distribution of food and potable water ended with the secession of huaicos in April. While some major roads have been repaired, as of mid-July, many of the damaged bridges connecting the rural countryside to Trujillo have not been restored. Community members, especially those living in very inaccessible locations or whose local governments had not prepared in 2015, still struggle daily to gain access to safe water and transportation, resulting in continued health stress and loss of educational and economic opportunities.
Community resilience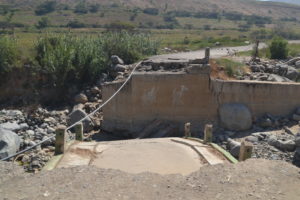 The daily lives of rural valley residents are largely unseen by the federal government, and there is little private or public insurance for the rural poor that could help cover devastating losses of crops (from both flooding and post-rain dramatic increase in insects), houses, personal belongings, labor and educational opportunities, and healthcare.
At the local level, grassroots responses to the flooding have initiated the building of new social structures of resilience. MOCHE Inc. has been involved in one example of such a response by supporting ollas communes (communal pots) in three Moche Valley communities, including Ciudad de Dios, where the members of the Women's Co-op became involved. The olla común provides a structure for community members to cooperatively prepare large meals for many families. It is the responsibility of each participating family (primarily mothers) to cook the meals for all members of the olla común one day a week. A small weekly donation per family subsidizes food costs. The olla común relieves members from having to worry about the financial burden of buying foodstuffs. In addition, it limits the time and effort women spend preparing meals, allowing them to focus their energy on rebuilding homes and water systems, finding work, and caring for their children. This is a clear example of how investing in grassroots structures and social capital can build local resilience. The Women's Co-op was created in Ciudad de Dios as a tool for economic empowerment, but in the emergency of the 2017 huaicos, the participating women took advantage of the relationships they had built to initiate an immediate response.
The success of the olla común in Ciudad de Dios has motivated participants to further organize and apply for the government's Vaso de Leche program. This program provides daily foodstuffs and milk to households with lactating mothers or children up to six years of age living at or below the poverty level. Vaso de Leche, run by county-level governments, is a program for which communities, not individuals, can apply, and throughout La Libertad many families living in poverty rely on these daily rations of milk and bread. Once the emergency passed, the Co-op members again repurposed its structure and are using it as a platform to advocate with the local government. The Women's Co-op has proved to be a flexible social network that can serve as a base from which residents can build both short- and long-term resilience.
Moving forward
"In the past decade, a steady increase in ocean temperatures has been documented, and some computer modeling suggests this could increase the frequency of extreme El Niños."
Given that ENSO is driven by SST it seems likely that increased global warming will have an impact on the phenomena, but just what that impact will be is unclear. In the past decade, a steady increase in ocean temperatures has been documented, and some computer modeling suggests this could increase the frequency of extreme El Niños. Previously, extreme El Niños, which bring the greatest devastation to human communities, occurred about every 20 years; now they may become more common, averaging every 10 years. But the 2017 "coastal El Niño" is such a recent and divergent event that its link to climate change cannot yet be understood. Predicting the effects of global warming on ENSO and "coastal El Niño" is essential, and CLIVAR (Climate and Ocean: Variability, Predictability, and Change), an initiative of the World Climate Research Programme, has taken up this call.
In the plazas and bodegas of the rural Moche Valley, community members talk about this year's huaicos as even more severe than those spawned by the 1982–83 and 1997–98 extreme El Niños. Whether the rains of 2017 resulted from ENSO or "coastal El Niño" is not an important distinction to the poor of the South American chaupiyunga and coast. What is clear is the need to continue to build infrastructure and grassroots resilience in these communities as they face global warming.