"How could rates of sexual dysfunction in women be so high, and yet there was no approved medication to address these concerns?"
In 1999 I read a new article by Laumann, Paik, and Rosen in JAMA1Edward O. Laumann, Anthony Paik, & Raymond C. Rosen, "Sexual Dysfunction in the United States: Prevalence and Predictors," JAMA 281, no. 6 (1999): 537–544. that indicated 43 percent of women have a sexual dysfunction. That same year, sildenafil citrate (Viagra) was approved in Canada for the treatment of erectile dysfunction. These two factors combined led me to leave my research program focused on nonhuman animal models of sexual dysfunction, and I began to pursue a line of inquiry focused on human sexuality. How could rates of sexual dysfunction in women be so high, and yet there was no approved medication to address these concerns? The more I immersed myself in the literature of women's sexuality, and in particular the contributors to women's sexual complaints, the more I felt uncomfortable with an apparent tension. We live in a sex-saturated society where messages about how to easily please one's partner, what to eat to feel sexy, and how to navigate hook-up sex are abundant. Television portrays couples engaging in unrestrained sex in elevators, without condoms, after putting kids to bed or brushing their teeth. Societal messages suggest that if you are not feeling sexual desire regularly and spontaneously, there is something wrong with you.
The tension lies in the fact that low sexual desire is common. For women, it may be expressed as reduced desire for sex, not responding to a partner's advances, not experiencing pleasure or motivation to continue during an encounter, and not finding themselves fantasizing or having erotic thoughts. The science suggests many people have low or absent spontaneous feelings of sexual desire.2Kirstin R. Mitchell et al., "Sexual Function in Britain: Findings from the Third National Survey of Sexual Attitudes and Lifestyles (Natsal-3)," The Lancet 382, no. 9907 (2013): 1817–1829. It's difficult to determine in any one woman what the exact cause of her reduced sexual desire is, but it is well established that mood, anxiety, stress, and low body image can directly impede sexual desire. In other words, the brain is responsible for the motivation for sex, for triggering arousal during sex, and for making sex rewarding so that we want it again. But the brain can also elicit barriers that get in the way of satisfying sex. Many women experience significant levels of negative self-judgement, are distracted, hard on themselves, focused on the outcome, or worried about a partner, all of which can arise before or during a sexual encounter.
Reconnecting sexuality and the mind
"Attention and focus have been found to be mission-critical for cultivating a sexual response and sexual desire."
In 2003, with funding from the Sexuality Research Fellowship Program (SRFP) and after learning about mindfulness meditation from my clinical supervisors during my psychology residency at the University of Washington, I carried out the first pilot study of mindfulness for survivors of cervical cancer who complained of "not feeling anything" when they were being sexually stimulated. Mindfulness meditation is a practice that exposes one to whatever sensations are present, no matter how prominent or faint they are. It trains the brain to stay in the here and now, fending off distractions and negative self-judgement. This, to me, seemed to be a promising approach for these women, who experience high levels of sex-related distress because they couldn't feel anything. Could mindfulness be a way of tuning them in to whatever was there? Somewhat to my surprise, that study revealed three monthly sessions of mindfulness to significantly improve women's self-reports of sexual arousal, and when tested in a psychophysiology lab, their genital sexual response to an erotic film was significantly higher than before the mindfulness sessions. Attention and focus have been found to be mission-critical for cultivating a sexual response and sexual desire. Skills such as mindfulness teach the brain to connect more completely with the body, allowing us to experience all of the sensations of sex.
Researchers know from interviewing people about their most satisfying and optimal sexual experiences that respondents describe those great encounters in a mindful way. They'll say things like: "I was fully alive," "I was completely there," "I was totally in tune with my partner," or "I was aware of every breath and every sensation." The data support that quality and satisfying sexual encounters really rely on mindfulness.
Mindfulness is more than just concentration training. It's fundamentally also about how we pay attention and how we concentrate. The compassion and non-self-judgment aspects mean that we're not berating ourselves for doing it (i.e., practicing mindfulness) wrong but rather we're expressing a lot of kindness and compassion toward ourselves for whatever we observe when we pay attention.
Applying mindfulness
I replicated that initial study in Vancouver, and, now armed with more confidence that mindfulness may have sex-enhancing effects, I received grant funding to carry out a series of studies in different populations of individuals with sexual problems. My coauthors and I moved from three or four individual sessions to group sessions consisting of eight weekly sessions. We found mindfulness to improve multiple domains of sexual response among gynecologic and colorectal cancer survivors, sexual desire in those with sexual interest/arousal disorder, pain intensity among those with provoked vestibulodynia, sexual satisfaction and erectile function among men with situational erectile dysfunction, and sex-related distress among women with a significant history of sexual abuse.
In 2018, I summarized and synthesized the body of research on mindfulness for sexual concerns carried out in my lab and elsewhere around the world, and published Better Sex through Mindfulness.3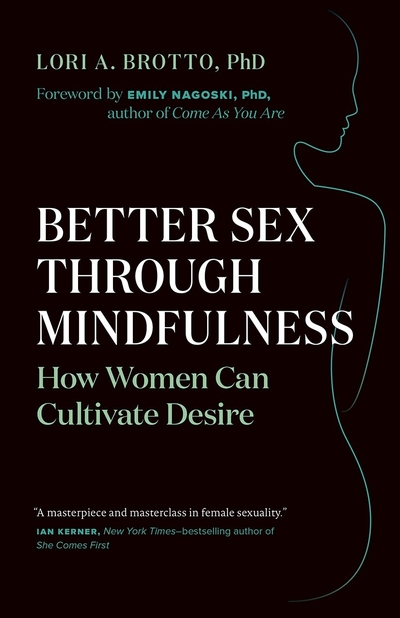 Vancouver: Greystone Books, 2018More Info → Mindfulness has also been recognized as an evidence-based treatment on various treatment guidelines for sexual dysfunction around the globe.4Lori Brotto et al., "Psychological and Interpersonal Dimensions of Sexual Function and Dysfunction," Journal of Sexual Medicine 13, no. 4 (2016): 538–571.
In my opinion, sensational and satisfying sex is simply not possible without mindfulness. For myself, the SRFP was a vital platform for my own research trajectory, and for catalyzing an entire new field of inquiry based on the use of present-moment, nonjudgmental awareness as a means of cultivating healthy sexuality.