Sohini Chattopadhyay, a 2020 International Dissertation Research Fellowship grantee, is the IDRF office staff's winning pick for the 2021 IDRF Photo Competition in the category of "Photo Essay." In this interview, Chattopadhyay shares reflections on her photo essay "Company in a Season of Lonely Hearts," which illustrates her experiences conducting research in isolation during the Covid-19 pandemic.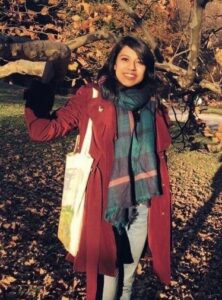 Sohini Chattopadhyay is a PhD candidate in the history department at Columbia University. Prior to coming to New York, she studied in Jawaharlal Nehru University in New Delhi. She edits a web journal called Borderlines, which focuses on rethinking theory and pedagogy through the works of scholars located in or researching on South Asia, Middle East, and Africa. Chattopadhyay has written on urbanization, mortuary work, and mortality data for various newspapers and websites in India.
What is your current research?
I'll begin with a question for us. What happens to those who die with friends and families cut off from them? Why were their deaths so isolating? These questions animate my dissertation research on mass death practices in colonial India, with an empirical focus on the cities of Bombay and Calcutta (modern day Mumbai and Kolkata, respectively). By mass death practices, I mean the inexpensive and novel modes of burials and cremations that the colonial state took charge of in the absence of families, or delegated to mortuary charities who took up the financial burden from the state. At a larger level, I also mean the massification of death, by aggregating various forms of social suffering into governable categories, through statistics, sociology of poverty, or issues of public health. This should not be surprising. Famines between the 1870s and 1910s killed 10 million impoverished people in India, another 10–12 million died due to the bubonic plague epidemic between 1896 and 1920, a similar number died in the influenza pandemic of 1918, while the wartime famine in Bengal in 1943 killed about 2–3 million. These are approximate numbers and do not include those who regularly died in factories, dockyards, mines, homeless, and became enumerated as the everyday casualties of the modern world.
The material reality of mass death became new sites of innovation for death practices, especially in cities where real estate demand, migration, and public health concerns became central to the question of managing death. As a result, bodies identified as unclaimed, as problems of public health, or as paupers, were also cadavers of modern experiments of death, such as legal debates around who possessed the dead, the uses of crematoria apparatuses, dissection, and inexpensive burials. I trace the history of this specific infrastructure of death through moments of crises such as famines, epidemics, and political strife, paying close attention to their enduring impact on our present.
In your beautiful photo essay, "Company in a Season of Lonely Hearts," you capture how socially isolating researching during the pandemic can be. Can you describe the shift to physically distanced research methods and how it may have redirected your project?
I began my research remotely, perusing online resources available through the National Archive of India and the British Library, amongst others. But I was looking for extremely marginal characters, whose traces could only be available in regional and local archives. So I eventually moved to Mumbai for archival work in January, once the risks of Covid-19 appeared to have lessened.
I was the only researcher in the Maharashtra State Archives in Mumbai. As the place was understaffed, it would sometimes take a few hours for the files I requisitioned to reach my table. Earlier, this would have been a time to catch up with fellow researchers in the room, maybe go to the archive's canteen for a cup of tea while discussing each other's plans in the city and share notes and anecdotes from research. All those possibilities had ended. Graduate students and researchers on the field and who do archival research are accustomed to the loneliness of moving away for a year. But usually, we find solace and new communities in other fellow itinerant researchers. A glance at the acknowledgment section of books and dissertations tells us how this community congeals into robust comradeship. For those of us whose archival research merged with the pandemic, we were forced to think about academic communities and companionship in different ways—digitally through Twitter, Instagram, dating apps, whatever came to the rescue.
I also wanted to spend as little time inside as possible, so while I waited for my files to arrive, I would go out for walks and found myself taking pictures, two of which are in this photo essay. The idea for a part of my third chapter came up in the course of strolling around the vicinity of the archive. At that point, I was tracing the world of a woman named Manoobai. The only information I had of her was that she was identified by the hospital staff as a "beggar," who was brought to the Cama Hospital in Mumbai where she died due to dysentery, at the age of 20, in the 1910s. Manoobai's body was considered unclaimed and hence, dissected. This led to a protest by some members of a burial charity. A doctor at the Cama Hospital called the police, and this is how Manoobai's story reaches the historian. I visited the hospital, met two resident doctors who told me of the history of the hospital and informed me that it has traditionally been a place of research on women's health. I tried to recreate the world of Manoobai with my idea of the place, as well as with census and municipal reports. Through this research I realized that the vicinity of Cama Hospital was also historically marked as a site of concentrated homelessness, particularly due to the networks of mills and dockyards in twentieth-century Bombay. At a time of acute economic crisis exacerbated by a forced lockdown in cities, stories such as Manoobai's gathered a deeper significance in my mind. I contacted police officers and burial charities in the city who would tell me stories of similar lives today.
I began to focus more on oral history and spoke with mortuary experts who work in burial and cremation grounds. This was a part of my earlier research plan (I have written about it here), but the pandemic made it more challenging and enriching at the same time. For instance, I got to see first-hand how a burial charity in Mumbai mobilized financial resources from movie stars and industrialists to assist the poor with their death rites, while also innovating techniques to adhere to new safety measures. These organizations are redefining mortuary care, as they must have in the past. I also learned a lot from journalists in India, especially their capacity to bend conventional methodologies to get to the heart of the stories.
On a more personal level, I slowly came to terms with the fact that the safety and health of me and my family precedes archival research. This sounds obvious, but in reality, it took me a while to adequately evaluate the risks.
As someone who researches mass death management and is directly experiencing the impacts of Covid-19 in India, have the ongoing events of this pandemic prompted new reflections on your work? Is there any way you feel your research can inform our thinking about the Covid-19 pandemic?
I don't think many of us are trained to experience the fear of death in our peers. This is a new moment for those of us who are privileged enough to have mistakenly believed that we will comfortably live beyond the average life expectancy rate. The urban privileged, which includes me, suddenly confronted the lack of wood for pyres, the high cost of hearses, dysfunctional crematoria apparatuses, unavailability of burial space, and an acute carelessness from the state toward the respectability of the dead that we did not expect. The privileged class and caste of India build their identity around taking respectability for granted, so this was a sudden moment of cognitive dissonance. But this is also generating new vocabularies of death and grief, much like how the bubonic plague epidemic in the early twentieth century led to new works of fiction, art, photography, and new norms of reportage around death and disease. The crisis also revealed old fault lines. Mortuary workers were often the last to get protective gear, a product of generational caste and class stigmatization.
Before the pandemic, it was difficult for me to explain to people why I wanted to study the death rites on unclaimed bodies, and how they are integral to understanding how death practices work in cities. Death and its abjection were not topics of lively dinner table conversations. My ideas were not articulate either. In the course of the pandemic, death became a part of mass media. I noticed how the public became more cognizant of the various forms of death practices, and alert to their inequities when it became personal. Since then, it has been easier for me to explain that such modes of inequities are built into the state and social systems of death practices in India, that have both millennial and colonial precedents. And we need to start understanding the history of death practices at their most marginal to even think of social inequities around death and grief. This does not mean that we bring equality by expecting everyone to reduce their access to a good death to the lowest common denominator. It means that we begin to rethink a system that keeps in mind equitable access to dignity.
However, this also opens up a philosophical and ethical conundrum. Who defines dignity in death, and what does that look like? I'll illustrate with an example from my research. In the 1930s, some upper caste members of the municipality in colonial Calcutta (many of them renowned politicians in their time) decided that those who died an unclaimed death and were cremated in a gas crematorium on the outskirts of the city deserved dignity in death. To them, the gas cremation was undignified, and it was undignified that "untouchable" workers would oversee the whole process of the death ritual, because they operated the crematoria apparatuses. These politicians then mandated that unclaimed bodies would instead receive funerals on the traditional wooden pyres (usually available to those from privileged castes), and these bodies would receive the services of a Brahmin. In this example, we see that "dignity" for the dead also meant the upholding of upper caste norms, and a re-stigmatization of Dalit death labor. As a historian, I cannot resolve these ethical conundrums—philosophers are better positioned to do so. But I hope my research can explicate the tensions around such complexities in the course of Indian history.
Where do you see your research going from here?
My research is conceptually at an odd juncture. The present dominates the ethical valence of my research, but I am also conscious of the fact that my work is in the domain of history. Current issues such as lack of publicly available data on those who died due to economic crisis exacerbated by Covid-19, questionable modes of collecting Covid-19 death records, or the financial logic to death management have deep roots in India's colonial past. History allows us to draw such causalities in deep time. But I am also mindful of the fact that I am writing about a different time and global political configuration. On a more practical level, I wish I could get more archival work done but unfortunately it coincided with the pandemic. However, I also believe that the experience of our times can only make us raise better questions for our research.
Banner photo by Sohini Chattopadhyay.